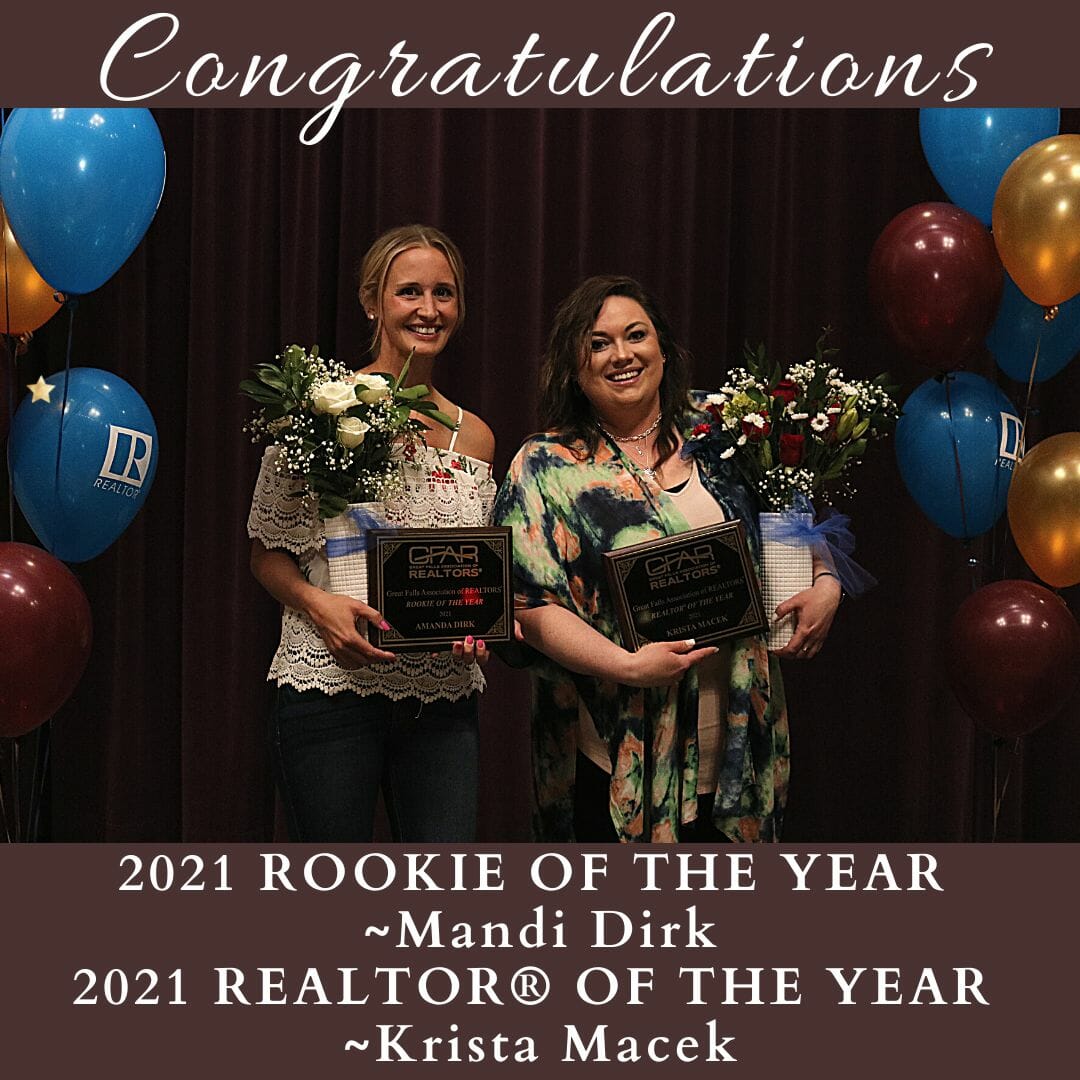 2021 REALTOR® & Rookie of the Year
Congratulations to our 2021 Award Ceremony Recipients!
2021 REALTOR® of the Year ~ Krista Macek
2021 Rookie of the Year ~ Mandi Dirk
"Krista is a strong leader locally and at a state level. She goes above and beyond to serve."
"Mandi is the ethical epitome of the type of agent we need more of in our industry."
REALTOR® of the Year: 
Since 1956, the National Association of REALTORS® has been honoring the state REALTORS® of the Year at the annual REALTORS® Conference & Expo in November. The program is designed to recognize REALTORS® who have served not only their profession, but also their communities. GFAR and MAR both follow the NAR recommended criteria for selecting the REALTOR® of the Year.
The REALTOR® of the Year award is comprised of six categories in which nominees are scored. Those categories are:
REALTOR® Spirit 15% – General description of candidate's faithfulness to principles of organized real estate, laws and regulations of his/her Board Association and the REALTOR® Code of Ethics, time and effort expended in furthering the principles of good real estate practice among other real estate brokers, press, general public.
Civic Activities 20% - Participation and offices held in local, state, and national civic and service clubs, membership in charitable organizations and activities.  Political appointments or election to public offices or commissions. Involvement of candidate in community projects that enhance economic development, pride and awareness of area.
Local Activities 20% - Local Association board positions held and committee positions/work, special assignments, seminar activity and educational work, membership and office held in local chapter of Institutes, Societies, etc.
Activity in State Association 20% - State Association work, special assignments, seminar activity and educational work, membership and office(s) held in the state association.
Activity in the National Association 5% - National Association work, special assignments, seminar activity and educational work, membership and office(s) held at the National association.
Business and Educational Accomplishments 20% - Public recognition of business conduct, service to clients, imaginative and creative advertising programs, rehabilitation work, land utilization, etc.
Rookie of the Year: 
New REALTORS at the outset of a real estate career (regardless of age) are generally uncertain about their competence and potential. They are dependent on others, especially their brokers and more experienced agents, for guidance, support, and feedback. Rookies are making initial choices about committing themselves to real estate as a career. They are exploring possibilities while learning about their own capabilities.
Rookies are REALTORS who have been in the business for two years or less. Some Rookies quickly become sales rock stars. Besides learning the real estate business, there are those that find time to volunteer at the association, attend as much education as they can, and remain active in the community. These are they type of Rookies who were nominated for this year's award.
The ROOKIE of the Year award requires the nominees to complete an application which is comprised of four categories. The applications are then scored by a committee of former Realtor and Rookie winners.
The four categories are:
Salesmanship 20% - Units and Dollar Volume of all SOLD properties in which candidate was involved as the listing agent, buyer's agent or both.
Professional Attitude 30% - Special qualities pertaining to attitude, values, work ethic, methods of salesmanship. High principals, faithfulness to laws and regulations of the Code of Ethics and local board. Real Estate schools, seminars and conventions attended. Designations achieved or working on such as GRI, CRS, ABR etc.
Local Board Activity 30% - Committee participation/work, chairmanships, volunteer activity, attendance at association events, local board and member meetings. Offices held in state and local Realtor associations. Contributions to RPAC, IMF, and support of Realtor Party initiatives.
Civic Activity 20% - Local, state and national level participation in civic and service clubs. Activities in charitable organizations. Activities in fraternal and religious groups, and political action. Activities in political or community action groups or government affairs issues.