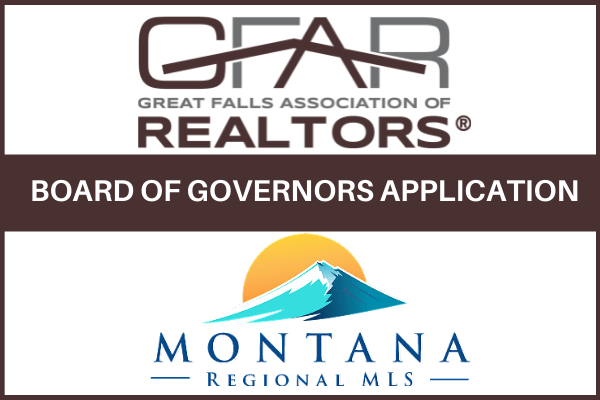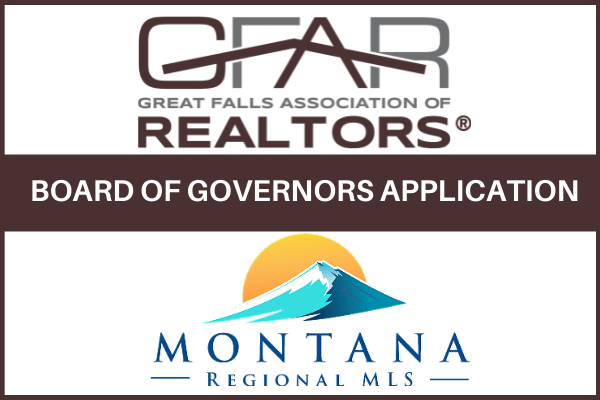 MRMLS Board of Governor Representative
The President of GFAR is accepting applications for a member to be appointed as GFAR's representative on the MRMLS Board of Governors for a three-year term beginning on January 1, 2022 – December 31, 2024.
Applications are available through the GFAR office. Completed applications must be received by 5:00 pm on Friday, October 29, 2021
GFAR's Policy Description
The Great Falls Association of REALTORS® provides MLS services to its members through ownership in the Montana Regional MLS, LLC (MRMLS). The Board of Governors oversees the operations, CEO, and regulating documents of the MRMLS, LLC.
Appointment to the Board of Governors. In accordance with the MRMLS Operating Agreement, GFAR has two representatives on the Board of Governors who serve staggered 3-year terms.
Positions are appointed by the President of GFAR after an application process has been completed. Appointments are approved by the GFAR board of directors and run through the calendar year.
Qualified applicants must be members in good standing for no less than 3 years.
Governors will be ex-officio members of the GFAR board of directors and are expected to attend monthly meetings and make reports as applicable.
Governors shall automatically be members of the GFAR MLS Advisory Board for the same term they are a Governor.
The GFAR board of directors reserves the right to remove an appointed Governor for any reason including lack of attendance at GFAR Board of Directors, MRMLS Board of Governor and/or GFAR MLS Advisory Board meetings.
Time commitments:
MRMLS – meets monthly on the fourth Thursday of the month at 9:30 am via zoom. An officer of the MRMLS may have additional meetings with the executive committee. Travel may be required to attend the annual retreat/strategic planning session.
GFAR MLS Advisory Board – meets quarterly on the first Wednesday of the month at 10:00 am.
GFAR Board of Directors – meets monthly on the third Wednesday of the month at 8:30 am.
*Expenses to attend meetings are either covered by MRMLS and/or GFAR