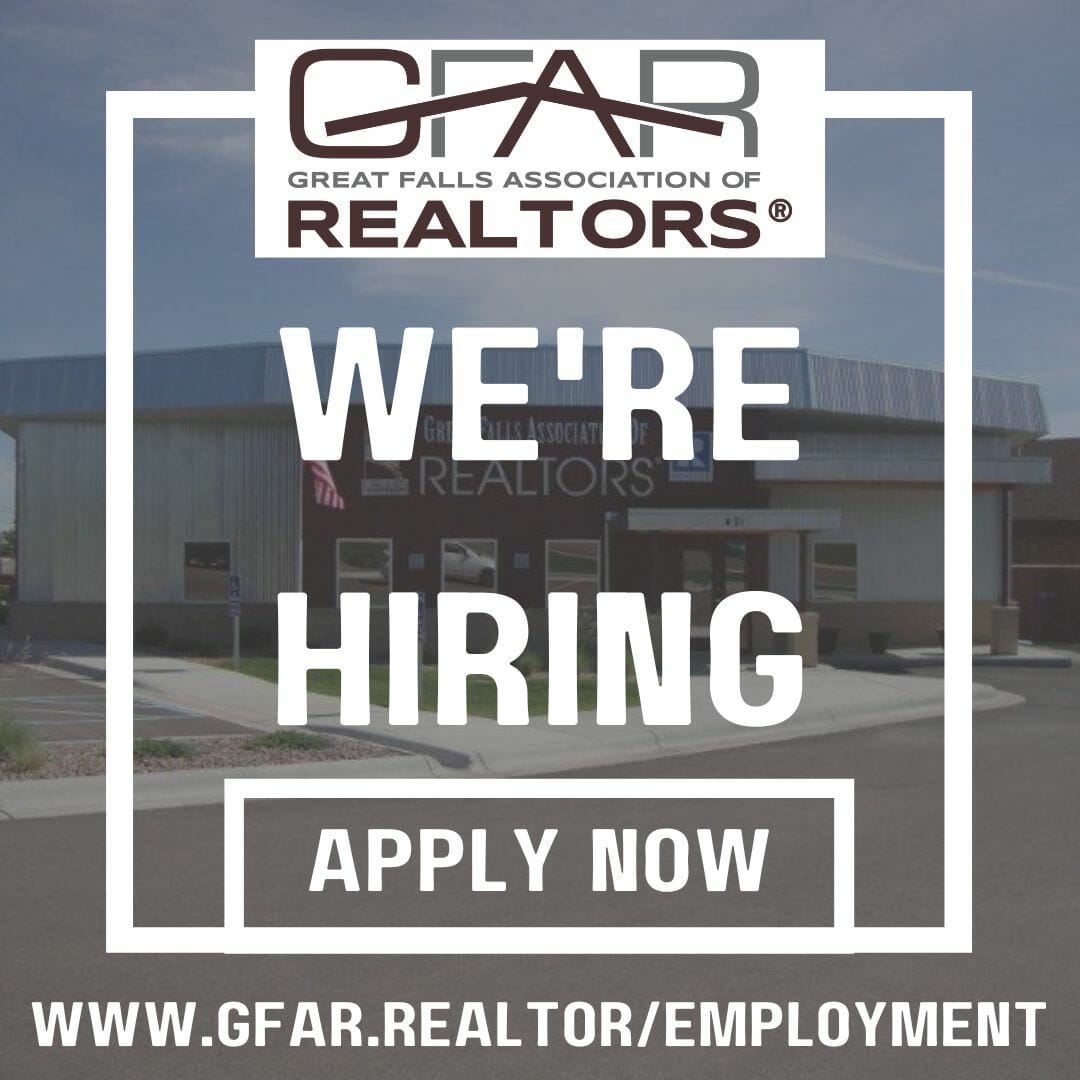 Great Falls Association of REALTORS®
Office Administrator & First Impressions Specialist
Resume and cover letter should be emailed to Terry Thompson, CEO at terry@gfar.realtor or mailed to: Great Falls Association of REALTORS®, 401 13th Avenue South, Great Falls, MT 59405
Great Falls Association of REALTORS®
Office Administrator &  First Impressions Specialist
Job Description
Minimum Job Requirements:
The Office Administrator & First Impressions Specialist position requires as a minimum, the following skills: ability to
multi-task and successfully problem solve; strong time management and organization skills; thorough oral and written
communication skills with strong attention to detail; Microsoft Office, Google, Adobe, Zoom and social media skills;
professional appearance, and the ability to maintain confidentiality; a friendly, professional composure at all times.
Experience working with volunteers, board of directors, association management systems, process development, and
event planning are desirable but not required.
The primary purpose of this position is to manage the front desk, the lockbox service, coordinate events,
meetings, and room rentals at the facility. Assists the Members Services Director with member onboarding,
manages the daily administration of the association's non-profit. The contributions of this position are vital to
the success of meeting the core standards and goals of the organization. This position provides administrative
support and reports to the Chief Executive Officer. The following is by no means an all-inclusive list of duties.
General Office Duties:
 Greets walk-in members and the public, identifies need, and if applicable, directs to appropriate
personnel
 Answer incoming telephone calls and respond to a multitude of inquiries from members and the public
 Manage the phone system to accommodate and respond to after hour messages
 Open/disseminate incoming mail. Manage the stamp account and order necessary supplies
 Log all monies received and deposited on the accounting log
 Manage and maintain office calendar in Google and events calendar in Growth Zone, including RSVP
and ticket sales
 Manage and order office and janitorial supplies as needed
 Schedule maintenance for office machines
 Manage the postage software program and replenish postage as needed
 Assist with dissemination of correspondence to members, other associations, vendors and the public via
mail and electronic means including web-generated inquiries
 Share in upkeep and cleaning of office
 Maintain a tidy personal office space including the lobby area; remove clutter and items for shredding as
needed
 Maintain organization of shared drive, proper categorization of files and scans created, deletion of
duplicate or unnecessary documents/files
 File management of membership files and all office related forms, purging of documentation
 Keep storage rooms cleaned and organized including scheduling of shredding services at least on an
annual basis
 Secure facility at the end of each day. Review security camera and respond to the alarm monitoring
service as needed. Weekend and after hour response may be required
 Building management and maintenance – communicate with vendors for snow plowing, mowing, lights,
HVAC system, trash, sprinkler system, parking lot cleaning, alarm system, phone and computer systems
 Liaison to committees as assigned by the CEO. Includes meeting notifications and taking minutes
 Attend staff, board of director, and committee meetings as directed
 Represent GFAR at external meetings as directed
 Participate in webinars to seek out new information pertinent to technology being utilized by GFAR
and/or membership
 Assist CEO, Member Services & Accounting Director with general administrative support
 Assist other personnel during their vacations, personal time off and sick leave
 Assist with RPAC and IMF and local issues fundraisers, tracking of contributions and communications
to members
 Participates in webinars to seek out new information pertinent to technology being utilized by GFAR
and/or membership
Growth Zone Program Specialist: (Growth Zone is the Association Management Software Program)
 Staff lead for technical application and troubleshooting of Growth Zone
 Manage dues renewal process in conjunction with other staff such as billing, processing payments,
tracking payments and answering questions
 Utilize the program to invoice for lockbox service fines and repair fees
 Utilize the program for member communications and various memberships
 Maintain committees and lists in the program
 Cross train and learn the Member Services & Communications Director tasks within the program
 Troubleshoot and identify processes for establishing best practices in the program
Education Program Duties:
 Update the Education Schedule for front desk display and dissemination to members upon request
 Manage class registration process, including online registrations
 Solicit and coordinate food sponsors, post sponsor signage, monitor break food/beverages day of class,
technology, room set-up/clean-up
 Assist with and monitor courses held at or by GFAR
 Assist members and non-members to find alternative education courses
 File management of education class schedules, rosters, sign-in sheets etc.; scan course documentation
and store electronically on shared drive
 Attend or participate in meetings pertaining to education requirements
 Code of Ethics Management Duties:
o Monitor existing members completion of COE courses taken as required for each NAR cycle
o Input education credits in M1/NRDS for COE course completion for non-NAR provided courses
o Utilize the M1/NRDS/GrowthZone system's COE report feature to identify members who are in
or not in compliance
o Communicate to members and the Designated Realtor/Appraiser who is not in compliance and
assist with identifying available courses to become compliant
o Report the list of non-compliant members subject to losing service to the CEO 30 days prior to
the end of the current cycle
Member Meetings & Public Rental Duties:
 Lead staff person for coordinating membership meetings and related events
 Prepare the agenda, sign in sheet, coffee, technology and room for the weekly Thursday member
meeting
 Manage the Thursday morning speaker spreadsheet and assist the assigned board member with booking
speakers
 Prepare for membership meetings and events which includes assisting guest speakers with equipment
set-up needs for presentations
 Maintain master calendar of scheduled events held in meeting rooms
 Coordinate with caterers and venues as needed for off-site meetings/events
 Transport meeting equipment such as podium, flag, sound system to offsite meeting locations
 Responsible for managing member and public room rentals
 Rental contract management to include invoice/payment processing to bookkeeper, and updating the
rental contract per GFAR policy
 Responsible to provide/arrange access to the facility as well as securing/arranging facility is locked and
secured after an event
 Setup and cleanup of meeting rooms in a timely manner
Lockbox Service Duties:
 Manage the process for members establishing, transferring, and disconnecting lockbox service
 Ensure member information in the SentriKey system is correct and updated by the regional MLS
 Enter lockbox service charges and refunds on the annual billing sheet for each firm as changes happen.
 Manage the SentriKey billing process in GrowthZone. Communicate with accounting director when
billing sheet is finalized for the invoice process to be completed in Quickbooks.
 Process payments of lockbox service fees
 Log cash and check payments of lockbox service fees paid in the accounting payment log
 Provide members information and instructions for the Growth Zone autopay process
 Manage and safeguard the inventory of lockboxes including conducting an annual audit
 Issue lockboxes to members
 Manage return of lockboxes from inactive members
 Manage replacement orders and track lost/stolen/broken boxes
 Process Growth Zone invoices for fines, lost, damaged or stolen boxes. Communicate with bookkeeper
as needed.
 Monitor the weekly Sentrilock reports for rule compliance
 Assist members by troubleshooting, transferring and code requests
 Work with Sentrilock Tech Support to solve system problems
 Return defective lockboxes and provide follow-up to ensure replacement products are received
 Inform and train members on system function and features; may include office visits
 Serve as primary contact for vendor
 Staff liaison for the MLS Advisory Board
Flag Project Duties: *GFAR owns the Great Falls Realtors® Flag Project a 501 (c)(3)
 Open and disseminate mail
 Log and track all donations and sales in the Flag accounting log spreadsheet
 Order and create notecards, bill inserts, prints and all fundraising supplies as needed
 Correspond with donors
 Manage and track postage used; complete reimbursements to GFAR as needed
 Assist walk-ins and members with purchases of flag fundraising items and answer questions
 Manage the online order fulfillment and donation processes
 Assist committee with preparations for Flag Day and fundraising events as needed
 Manage and track the check-out of the Flag for public events
 Manage the email account and social media posts
 Provide website updates to the Communications Director
 Assigned staff liaison
GFAR Core Values
The organizations core values are listed below. Employees are expected to complete daily tasks, short and long-
term projects by keeping these values in mind. Annual reviews will identify the employee's performance on
how well they exemplify the core values.
 Team Player
 Communication Skills
 Quality Work
 Leadership
 Customer Service
Professional Development
Staff is encouraged to participate in opportunities for professional development whether provided by the
Realtor® organization, other industry organizations, schools of higher learning etc. GFAR may, with prior
approval, reimburse for the full or partial cost of tuition for professional development courses or workshops.
There will be opportunities for this position to attend leadership development courses. This position requires
completion of the NAR Association Management Online Course within one year of employment.
Work Environment & Physical Demands:
This position requires the employee to perform their tasks on site at the facility Monday – Friday, 8am – 5pm. Ability to
speak concisely and effectively communicate. Visual and auditory ability to respond to critical situations and physical
ability to act swiftly in an emergency. Ability to view/enter data for long periods of time.
Requires general lifting at times of items such as chairs, tables, office supplies, lockboxes, file boxes, and trash. While not
a comprehensive list, the employee should be able to lift a maximum of at least 20 pounds and/or disclose any issues that
would prevent lifting such items. Ability to walk, stand and sit for periods of time. Position may require bending and
kneeling.
Perform additional tasks or duties requested, assigned or directed by the Chief Executive Officer.
This is a full time, 40 hour per week, non-exempt position. Hours of work are Monday – Friday from 8
am – 5 pm
Annual Salary Range - $33,000 - $40,000 DOE
Benefits: Paid Vacation, PTO, STO, Bonuses